The first two days of work with the colleagues at Masinde Muliro's University of Science and Technology (MMUST) are over and it's time for a first interim report.
Day 1
Yesterday we were greeted with all honor and great cordiality. After our start in the International Office, we had an appointment with the Chancellor of MMUST, Deputy Vice Chancelor Prof. Joseph K. Rotich.
Afterwards, we got the opportunity to briefly introduce ourselves and the project as well as getting to know all interested people on site. Happily, that's a lot, so we do not want to list them all at this point, we just want to refer to the big group photo.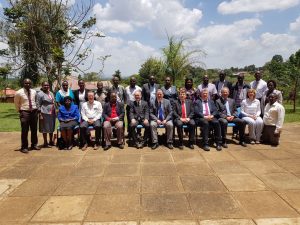 After a short break, we visited the campus as well as the individual interested departments with their rooms and laboratories. We were always greeted first by the respective deans in their (for us all often too small) offices, then we registered into the guest book, talked briefly and then were led by the laboratory manager through the rooms. Since the MMUST has 13 departments with several faculties, which each of it has a dean, there were countless offices, guestbooks and laboratories, even though we had barely seen the half of it. So it quickly was 18 o'clock and we were pretty much flattened by these many impressions.
Day 2
Since yesterday it was clear that the visit of all faculties and laboratories takes a lot of time, we asked to change the plan and to speak after a short welcome together in small groups with the appropriate departments. Fortunately, our wish was fulfilled.
So the six of us divided us into three groups: one group spoke with representatives of the School of Agriculture & Veterinary Technology, one group with representatives of the School of Engineering & Built Environment and the School of Natural Sciences, and the third group spoke Representatives of the School of Public Health, Science & Technology and the School of Open & Distance Learning.
This separation of the groups turned out to be very expedient because it was possible to discuss commonalities and differences in training as well as suitable possible projects until well into the evening.
The giveaways we brought along for each school were very popular (see photo).